THE PROPERTY
Unique building at the heart of the city centre
The Rahmhof occupies a prime location right at the heart of Frankfurt city centre and offers a total of 8,873 sqm of office and retail space. The space comprises two basements and seven floors above ground level. The Rahmhof is highly flexible and is suitable for letting in units between 288 sqm to over 876 sqm on every floor.
The architecturally striking building with a monument-listed façade blends perfectly into the bustling environment of Frankfurt city centre. No other property creates such a harmonious crossover between working and living as the Rahmhof.
SPECIFICATION
Rahmhofstraße 2-4, Schillerstraße 13 | 60313 Frankfurt am Main | Germany
| | |
| --- | --- |
| Ceiling height | 3,20 m |
| Room depth | 6,00 m |
| Fit-out grid | 3,00 m |
| Floors | Raised floor |
| Heating | Heating / Cooling ceilings |
| Cooling | Cooling ceilings |
| Lighting | Fitted downlights and standard lamps |
| Available Office Space | 288 sqm - 876 sqm |
| Lifts | 5 passenger lifts, 1 fire service lift |
AVAILABILITY
Available rental space Rahmhofstraße 2-4, Schillerstraße 13: from 300 sqm to 1,264 sqm per floor
FLOORS
UNIT A1
UNIT A2
UNIT B
6TH FLOOR
288 sqm
RENTED
RENTED
5TH FLOOR
RENTED
876 sqm*
4TH FLOOR
RENTED
510 sqm
RENTED
3TH FLOOR
328 sqm

**

530 sqm
RENTED
2TH FLOOR
309 sqm
RENTED
RENTED
1TH FLOOR
RENTED
RENTED
RENTED
GROUND FLOOR
UPON REQUEST
* On a special request it is possible to divide this unit into 2 parts ( A2 = 517 sqm | B = 359 sqm )
** On a special request it is possible to rent it as one unit ( A2| B = 858 sqm )
DOWNLOAD LAYOUTS
The Schillerpassage
The Vision
The Rahmhof provides excellent pre-requisites for the release of further value enhancement potential. The modernization of the historic passage is now in planning: In the course of a refurbishment, the representative shopping areas will be redesigned – this will revive the inner shopping street with new generosity and elegance.
LOCATION
Bustling and vibrant
The historic building is centrally located in the continually developing and lively business district. For over one hundred years, the Rahmhof has been part of the cityscape and combines its own historic identity with the present day. Already well established in the neighbourhood, the Rahmhof epitomises the heart and soul of the vibrant work/life culture like few other buildings in Frankfurt.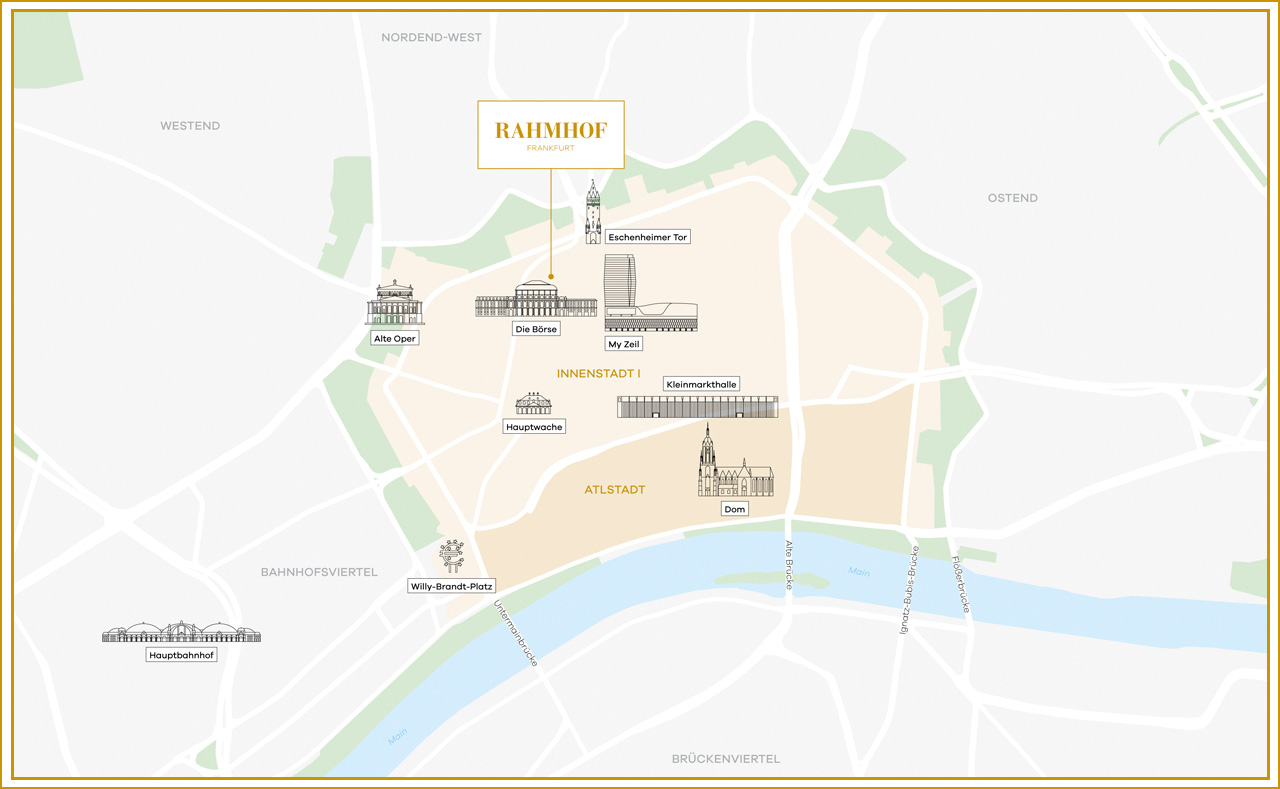 HOTELS & AMENITIES
Jumeirah
Flemmings
Hilton
Sofitel
Elements
7/11
Fitness First
MyZeil Shopping Center
CineStar
Schillermarkt
RESTAURANTS & BARS
Flemmings Bar
Hugo's
Buffalo Steakhouse
Manufactum
Vapiano
Bar ohne Namen
Die Kuh die lacht
Subway
Block House
Heidi & Paul
SHOPPING
Galeria Kaufhof
Görtz
Zara
Apple Store
Shopping Center "My Zeil"
WMF
Hugendubel
Cos
Chanel
Nespresso
Hauptwache

2 Min
Eschenheimer Tor

2 Min
Alte Oper

5 Min
Grüneburgweg

10 Min
Konstablerwache

10 Min
Willy-Brandt-Platz

12 Min
Dom/Römer

12 Min
Taunusanlage

15 Min H
Central Railway Station

20 Min
CONTACT
Your local contact

Myliusstraße 33-37
60323 Frankfurt am Main, Germany
T +49 (0) 69 54 000 58 0
VAN NGUYEN
Asset Management & Investment Advisory
T +49 (0) 69 54 000 58 27
M +49 (0) 151 20 00 26 86
van.nguyen@oceans-company.com
MICHAEL RUBEL
Asset Management
T +49 (0) 69 54 000 58 29
M +49 (0) 162 79 62 336
michael.rubel@oceans-company.com